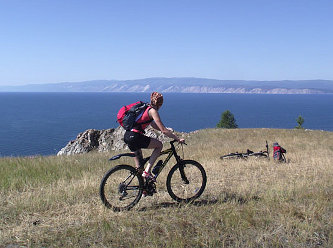 Planning a vacation, we all look forward to a fabulous trip. Where to go for new emotions and experience, for exciting stories and scenic snaps this year? If you enjoy discovering new places, climbing mountain tracks with backpacks, rafting down rivers or skiing, if you long for a unique dog mushing tour or a snowmobile ride, then Lake Baikal is just for you! Indeed, there are but few spots on our planet better for active rest and adventure tourism.
Even without any hiking experience you need not be scared. Our programs are first of all for beginners or people not trained at all. If you are perfectly comfortable with a night in a tent, if you are not afraid of getting your feet wet and are about to eat field meals, you will have a lot to choose of.
We have a lot to offer to advanced explores as well. Invitations for Russian Visa, meeting on arrival, luggage assistance, accommodation, tickets, maps, consultations, coordintation with local Rescue team, etc. Our company helped several adventure projects on the Lake come true. One of our last achievements was technical support for the Black Ice Race.
For those who prefer a comfortable hotel room to a thrilling adventure, we are glad to offer our exotic programs. We will help you enjoy magnificence of the unique lake, even if you have only one or two days to spare.
In years on-the-job training in tourism we have been piling up our knowledge and skills, selecting tours so that the recreation of our clients be unforgettable. You do not accept arrival dates? You want greater independence? You are not at all happy with the route? Just contact us, and we are always ready to develop an individual tour especially for you.
Baikal is to be one of your most memorable visits to Siberia!
Please note that 'A-B Tours Ltd.' is in the list of officially recognized tour operators of Russia. It means that we possess a number of advantages:
All our business is insured by one of the largest companies of Russia;
We have a personal reference in the Ministry of Foreign affairs of Russia that allows us to provide you with a full set of Russian visa support documents;
HOW TO BUY A TOUR
1. Choose a tour from the catalogue on our web-site.
2. E-mail one of our managers your preliminary request. We will include you in the group-list and send you all the information you should know to take part in the tour. We will also send you an invoice for advance payment and the contract.
3. As soon as we get your payment we will confirm all the services and send you the voucher.

HOW TO PAY A TOUR
As soon as you get an invoice you should let us know the way you would like to pay the tour:
Credit card: we will send you a link to a web-site where you could pay the tour with your card.
Bank transfer: you pay the invoice in any bank in your city or country.

PAYMENT TERMS
1. The advance payment amounts from 30% to 50% from the actual cost of the tour.
2. The deposit is to be paid 20 days before the tour starts.

Please, mind:
Each tour presupposes a minimum number of participants (this information is provided in every tour description). In case the group is not made up we can either cancel the tour, change the price or offer you a slightly altered variant of the itinerary. In case the tour is cancelled our company will reimburse you the payment.
We will let you know about any changes at least 20 days before the tour starts.