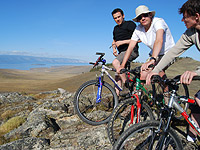 The Tazheran steppe and the Olkhon Island are the two unique areas of Baikal where the impassable taiga forests and mountain rangers surrenders to a picturesque steppe, covered with undersized grass with hardly any trees and a number of small salt lakes. A flat terrain indented by just a few ravines, a wonderful panoramic view of Baikal, and remoteness make these areas an ideal location for cycling and backpacking adventures.
Itinerary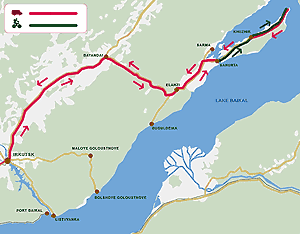 Arrival in Irkutsk. Meeting and assistance at the airport/railway station followed by a brief city tour. Transfer 270 km north to Olkhon island. As we reach the spot we'll take a ferry across the Olkhon Gate strait. The ferry ride takes about 20 min. After we've reached Olkhon we'll find a cozy camp site in one of the numerous warm bays of Olkhon island and set up tent. Our guide will attend to dinner and you you'll have some time to adjust your mountain bikes. Dinner and overnight in tents. (LD)
After breakfast we'll set off on our bikes along a deserted steppe road that runs on top of a stone plateau right above the main road that connects the ferry station with the central part of the island. Our luggage and food storage will be transported to the place by car so you'll enjoy the journey with only your day packs on. In the afternoon we'll descend from the hillside down to lake Baikal shore and set up camp in a picturesque bay. Overnight in tents. (BLD).
After breakfast our guide will introduce you to the Crag of Shaman * – the Holly-of-Hollies for the Buryat people. The rock is located not far away from our camp site. If lucky you'll find the ancient inscription in Sanskrit and the legendary Mask Of Shaman. In the afternoon we'll set off on our bikes northwards. At one section the forest road is completely buried in sand and you'll have to work hard to make your way through **. Lunch en route. Overnight in tents in a cozy bay. (BLD).
* Crag of Shaman – one of the 9 sanctuaries of Asia, was once called the Temple of Rock, and is believed by shamans to be a place of residence of their major deity – Khan Khute-baabay, who descended from Heaven to Earth to rule human destinies.
** In the early 50-s a small fishermen community was built here but in less than 20 years it was completely buried by the sands and people were forced to abandon their houses.
Our trip continues further to Khoboy cape * – the northernmost extremity of the Island and one of its main attractions. From Khuzhir the steppe gradually surrenders to a beautiful pine tree forest that grows right in the sand dunes. Vegetation is so tender and vulnerable that one needs to be really careful not to damage it. After exploring the legendary Khoboy cape we'll head for a tiny village located on the eastern side of Olkhon island. Dinner and overnight in tents or log cabins. (BLD).
* The Cape is located opposite the widest part of Baikal (79,8 km). There's a special site (a small platform) that was used for meditation and performing "tailagans" – gatherings of shamans. From the cape one can often see Baikal nerpas – fresh-water seals, the lake's only aquatic animals.
After breakfast we head back to the ferry station by car and further to Irkutsk. Depending on how lucky we are with the ferry, the road back to Irkutsk might take from 7 to 9 hours with short stops en route to stretch your legs and take pictures near the sacred "obo"-site * . Upon arrival accommodation in a guest house or hostel. (B)
* "Оbо"- is a residence of "ezhins" – guardian spirits relating to nature and forefathers, which shamans used as their allies; the right spot for simple offerings.
Transfer to the airport/railway station
Please, note that the check in is at 12-00. In case of early arrival you might have to wait at the reception for the check-in hours.
You may adjust the program and add a few days as an optional tour which is not included in the main tour cost.
Overall cycling route length – 90 km.
No special training required.
Customers should be physically prepared for cycling across rough terrain and overnights in tents.
Outfit and gear: mountain bikes and tents.
Meals are cooked over campfire or on gas stoves.
Climate conditions: Occasional rains and low temperatures at night are possible. Due to the changeable weather and your calisthenics the tour itinerary may be slightly altered.
It is required that customers have waterproof raincoats, warm clothes and footwear to change.
| | | | | |
| --- | --- | --- | --- | --- |
| Number of PAX in a group | 2 | 3 | 4-5 | 6-8 |
| Cost p/p in Rubles | 79 000 | 59 500 | 48 700 | 42 700 |
Single supplement in a guest house 800 Rub
Ground and water transportation as described in the itinerary (transfers on arrival and departure are not included);
Accommodation in a guest house or hostel in Irkutsk based on DBL occupancy;
All meals described (B – breakfast, L – lunch, D – dinner);
4WD support vehicle;
Rent of mountain bikes;
All excursions, entrance fees, and visits as described in itinerary;
Guide;