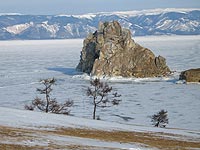 Traveling through the vast ice desert of Baikal in severe Siberian conditions resembles an Arctic expedition. Apart from the fascinating experience of crossing the lake and spending one night above the mile deep abyss the participants will have an opportunity to see the most spectacular sights of the Lake – Olkhon island and Barguzin gulf as well as visit the capital of Buryat Republic – Ulan-Ude city.
Itinerary
Arrival in Irkutsk. Meeting and assistance for further transfer to your host family. Check in and time at leisure *. After you have had a rest we'll welcome you to a brief city tour in the historical part of Irkutsk **. Lunch in a cafe, dinner on your own. (L)
* In case of early arrival you might have to wait at the reception for check in hours 12:00
** You'll visit the place where Irkutsk was founded 350 years ago at the confluence of two Siberian rivers: Irkut and Angara. The place is framed with three churches, two of which are Russian Orthodox with golden domes and the third one is Roman Catholic
In the morning right after breakfast we'll drive by car to the biggest island on Baikal Lake – Olkhon *. The total distance is about 350 km and it takes 5 hours to get there. En route we'll make a stop for lunch in one of the local road cafes where one can appreciate meat dumplings cooked on steam that is the main dish of native cuisine. To get to Olkhon Island from the mainland one needs to drive a short section right across the frozen Olkhon's Gate strait. As we get to the main settlement of Olkhon Island – Khuzhir village, we'll leave our bags in a guest house and walk a short distance to one of the main sights of lake Baikal – the famous Burkhan cape **. Dinner and Russian steam sauna will complete this day. Overnight in the guest house. (BLD)
* Olkhon is the biggest island on lake Baikal. It is about 73 km long and 15 km wide.
** Native people, who are mostly shamanists, believed that this cape with a cave in it is home to the main Spirit named Burkhan.
After breakfast we'll set off by car to the northern extremity of Olkhon Island – the famous Khoboy cape *. As we move along the western coast of Olkhon island we'll make several stops to take pictures of fascinating ice caves **.
Driving on the ice of Baikal Lake is a challenging experience. Some times even 4 WD trucks can't make their way through vast areas of ice hummocks and cracks, so one has to look for a safe passage driving through labyrinth of ice. As we turn around Khoboy cape and drive south along the Eastern shore of Olkhon we'll eventually get to a tiny village located in a picturesque bay. Accommodation in a family.
In the afternoon we'll spend a couple of hours fitting personal gear for the ice trek across the frozen lake. Most of our load will be transported on special sleds. The training includes basic technique and safety measures of walking on ice, setting up a camp and preparing food on a gas stove. Dinner and overnight in a family. (BLD)
* In local dialect Khoboy means "fang". This rocky cliff resembles a high pillar in the middle of a boundless ice desert of frozen Baikal Lake. This place is famous for rough ice conditions. Usually next to Hoboy Cape you can observe huge blocks of blue hummock ice some of which can be several meters high.
** Extremely low temperatures in November-December and high storms create icicles of amazing forms and shapes. They hang down from the ceilings of ice-caves and cover the walls of some grottos.
Today early in the morning we start the most challenging and exiting part of the whole trip.
Every participant will be provided with trekking poles and sleds for personal and camping equipment. This way of transporting stuff is much easier than carrying it in a backpack.
The total distance of the ice trek to the opposite shore of lake Baikal at this place of the lake is about 60 km and it is to be covered within 2 days *. Meals will be cooked on gas and petrol burners. We'll stop in the middle of the lake about 1 hour before it gets dark, set up a tent camp and prepare dinner. (BLD)
* This is the widest section of the Great lake. Sometimes you can hardly see both shores and this gives you an impression of traveling in the middle of an Arctic desert!
After breakfast we'll break up camp and continue our Trans Baikal journey. The most challenging and difficult part of the trip will be going through vast fields of ice hummocks and across the cracks.
In late afternoon we are due to reach Turka village on the eastern shore. Accommodation in a guest house. Festive dinner and overnight. (BLD)
* The surface of Baikal is different at every section. Close to Olkhon island it may be pure black ice. But as we move east we'll encounter more and more snow.
After breakfast transfer by car to the capital of local region – Ulan-Ude city (245 km). The drive takes about half a day. Upon arrival to the city accommodation at a hotel where you can take a shower and have some rest. Lunch in one of the local restaurants followed by a brief city tour. Dinner on your own.
After breakfast you'll be offered a car tour to an open air ethnographical museum located in Berezovka village. From there we'll drive to a large Buddhist temple * located not far away from Ulan-Ude city. At the end of the day we'll catch an evening train to Irkutsk city (2 Class ticket, 4 persons in a carriage compartment). Overnight: Train.
* Buddhism is the main religion and Buryat Republic. There are numerous Buddhist temples in the area.
Early in the morning arrive to Irkutsk city. Transfer to the airport or hotel on your demand.
The tour is available from February 1 till April 1.
Maximum group size – 6 pax.
Winter camping experience is essential
Ask your manager for a personal equipment list.
| | | | | |
| --- | --- | --- | --- | --- |
| Number of pax | 1 | 2 | 3 | 4-6 |
| Cost per pax RUB | 171 100 | 114 300 | 92 200 | 79 200 |
transfers as per program;
train ticket from Ulan-Ude to Irkutsk;
all excursions mentioned;
accommodation in guest houses and hotels;
meals as noted in the itinerary (B- breakfast, L – lunch, D – dinner);
guide services;
rent of sleds, winter tent and winter camping  equipment;
sauna.