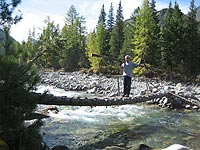 The Shumak spa is a unique natural phenomenon. It was found centuries ago in the Eastern Sayan Mountains, in the Valley of Shumak River. The thermal springs are renowned for their amazing healing effects on a human organism. And thanks to its remoteness this Natural health resort has remained merely untouched. Even nowadays one can get there only on foot or on a horse back. The springs are located in a beautiful area surrounded by gorgeous peaks and one can combine relaxing in natural mineral baths with easy day hikes along the river valley or up to the blooming alpine fields.
Olkhon Island on Lake Baikal, better known as the Island of Sun – is another nature wonder you ought to see. Pine tree forests, clean warm waters and sandy beaches – is something what you really will be dreaming of after a week of backpacking over the 3000m high Sayan Mountains.
Itinerary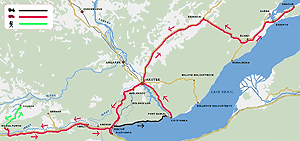 Arrival in Irkutsk. Meeting and assistance at the airport. Transfer by minibus 300 km to Nilova Pustin health resort with short stops en-route to stretch your legs and have lunch at a road cafe. As we reach the end of the road we'll set up a tent camp on a clearing and cook dinner. Overnight in tents. (D)
The backpacking part of the trip starts on an old forest road that leads to the very foot of a mountain range. From there and for the rest of day we shall be going uphill *. A rocky path milled by horses' hoofs requires proper footwear. The goal of the day is to reach the tree line **. We'll find a clearing were there's enough fire wood to cook dinner and set up a tent camp. (BLD)
* The first 2 days of the trail are the most difficult largely because of the heavy backpacks.
** Trees do not grow at altitudes higher than 2000m giving way to alpine fields.
From our camp site it is about 3 hours walk to the foot of Shumak mountain pass *. Before the rise (2760 m) we'll stop for lunch and a short rest. ** On a good day you'll have a chance to make some wonderful pictures. As we walk down the northern slope of the pass we'll bypass two beautiful mountain lakes. Dinner at the tree line down the Shumak river valley. Overnight in tents opposite a gorgeous 20m high waterfall. (BLD)
* The path is broad and safe. A great variety of mountain herbs and blooming flowers are for you to admire.
** The northern slope is steep and deserted, however it presents a wonderful view on the Shumak river valley.
Breakfast in camp. Approximately 4 hours walk down to Shumak springs. As we get to the place we'll find a proper spot for our camp site, have lunch and after that walk around the springs to drink some mineral water and bathe in hot spa *. Dinner. Overnight. (BLD)
* This day we recommend you to cover yourself allover with mineral mud and lie in the sun for some time waiting for the mud to dry. Wash it off in a spa and after such a procedure your skin will be as soft as that of a baby.
On this day our guide will offer you an optional day trip to the Sand pillars * that are situated 7 km down the river valley. If you feel tired you are welcome stay in camp, walk around the area, prepare dinner and collect some fire wood. Overnight in tents. (BLD)
* A holy place for local Buryat people. Opposite the pillars there is an altar where all guests are supposed to burn the best bits of their meal.
After a good rest and late breakfast we start our journey back. To make the next day easier and shorter we can stop for the night above the tree line right at the foot of the mountain pass. This is the only day when we might have to cook meals (dinner and breakfast) on a gas stove *. Overnight in tents. (BLD)
* Backpackers in Russia traditionally prefer to use campfire for cooking instead of gas stoves.
Early breakfast. Shumak mountain pass ascent and have lunch on the other side of the mountain pass near a small creek. From there it's an easy hike * to the tree line. Dinner. Overnight in tents. (BLD)
* A familiar trail, light backpacks and perfect callisthenics of our guests by the end of the trip make the road back a lot easier.
Our last hiking day. As we descent down the river valley to Nilova Pustin health resort our minibus will drive us back to Irkutsk. Accomodation in a guest house. (BL)
After breakfast transfer to the airport/railway station. (B)
Please, note that the check in is at 12-00. In case of early arrival you might have to wait at the reception for the check-in hours.
You may adjust the program and add a few days as an optional tour which is not included in the main tour cost.
Overall backpacking route length – 120 km, average Category 2.
Customers should be physically prepared for hiking in the mountains with heavy backpacks.
It's required that tourists have waterproof jacket proper footwear and warm clothes.
Meals are cooked over campfire or on gas stoves.
Climate conditions: Occasional rains, snowfalls and low temperatures at night are possible. Due to the changeable weather the tour itinerary may be altered.
| | | | | |
| --- | --- | --- | --- | --- |
| Number of PAX in a group | 2 | 3 | 4-5 | 6-8 |
| Cost p/p in Rubles | 53 500 | 42 300 | 34 200 | 30 100 |
Single supplement 800 Rub
Ground and water transportation as described in the itinerary;
All accommodations as described in the itinerary based on DBL occupancy;
All meals described (B – breakfast, L – lunch, D – dinner);
Rent of tents;
All excursions, entrance fees, and visits as described in itinerary;
Guide.