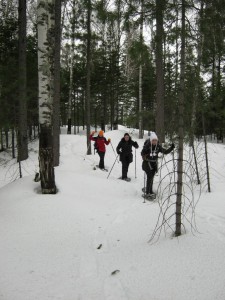 Traditionally outdoor lovers in Siberia use broad skis to make their way through the deep snow, similar to those that were used by Siberian hunters from times immemorial. However, nowadays one can meet trappers plowing through the snow on snowshoes. It's up for you to decide which one is better but we have to admit that snowshoes offer better maneuverability and better grip when going uphill. Besides snowshoeing does require special training so anyone who is physically fit for moderate outdoor activity is welcome to join us on this adventure.
Itinerary
Arrival in Irkutsk and transfer to your guesthouse. Accommodation and rest. A brief city tour with a guide in the afternoon. Meals at personal expenses. Early check-in not included. 
* You'll visit the place where Irkutsk was founded more than 350 years ago at the confluence of two Siberian rivers: Irkut and Angara. The place is framed by three churches, two of which are Russian Orthodox with golden domes and the third one is Roman Catholic
After breakfast, we will pack our personal things and food in a van and drive about 70 km to a small village located along the Trans-Siberian railroad. This is the starting point of our adventure. We will take some time to adjust the snowshoes, load the snowmobile sled and set off. The trip of the first day is 9 km long with about 3 km uphill. Accommodation in a log cabin similar to those used traditionally by Siberian hunters. The team will share one room that is heated by firewood. Sauna and dinner. (BLD)
Our next destination is located about 10 km away but walking in deep snow without any trail will not make thing easy and fast. The guide will have the hardest part walking first but you are welcome to help him once in a while. Lunch will be cooked on a campfire and after some rest, we will continue our adventure through the virgin forest. Time to relax and have sauna before dinner. Overnight in a tiny log cabin on one big plank bed (BLD)
On this day the guide will recommend you change snowshoes for skis because we have to make about 20 km to the next location. Skiing in deep snow is very hard but if you follow the snowmobile track you'll move much faster and with less effort. We'll ski down the valley right to Lake Baikal shore and walk about 1 km on the ice to a tiny village located right on the very shore. Overnight in a log house that a century ago used to be a railway station on the legendary Circum Baikal railroad. (BLD)
Our snowmobile will be gone back to Irkutsk and for the next 2 days we will have to carry all our personal things and food ourselves. However, this is not a problem at all because from now on we'll be walking on the flat surface of Lake Baikal and all our things will travel on pulka sleds. Therefore, 20 km that we have to walk on the day is absolutely affordable. By the evening, we shall reach another small village, located along the Circum Baikal railroad and stay for the night in a tourist camp. Sauna and dinner. (BLD)
After breakfast, we will spend some time exploring the old bridges and tunnels built in the rocky terrain in 1903-1904 and set off to our final destination – Kultuk village that is located at the south extremity of Lake Baikal. Walking distance is just 8 km. A van will pick us up at the end of the trip and drive back to Irkutsk. We will stop on a view point to make the last pictures and say farewell to the lake. About 2 hours drive to Irkutsk and accommodation in a guesthouse. Dinner on your own. (BL)
Transfer to the airport.
The tour is available from February 1 till April 1.
Maximum group size – 4-5 pax.
It is required that customers are physically fit and desirable that they have basic winter camping experience. (at night the temperatures can go as low as -35C (in January), day temperatures average – 15C in February and -5 in March)
Outfit and gear provided: snowshoes, skis, pulka sleds, camping kitchen utensils
Ask your manager for a personal equipment list.
| | | | | | |
| --- | --- | --- | --- | --- | --- |
| Number of pax | 4-5 | | | | |
| Cost per pax RUB | 61 600 | | | | |
transfers;
accommodation in a guest houses and log houses;
meals as noted in the itinerary (B- breakfast, L – lunch, D – dinner);
guide;
rent of special equipment as mentioned above;
snowmobile support during the snowshoe part;
sauna.