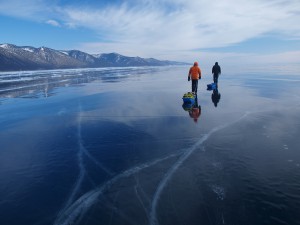 This trip offers a well-balanced combination of 3 winter activities affordable by most of our customers and does not require any special outdoor skills. You will start with an easy hike through Siberian forest, cross the ice shell of Baikal in its narrowest part, spend a full day snowshoeing and ice fishing in a wonderful winter fairy tale location and finish with a 3 day ice trek on the ice of the lake. You will see Baikal in all its diversity: old tunnels and bridges of the Old Trans-Siberian railroad, walk both on black ice and 3m deep snow, experience subzero temperatures and lots of sun.
Itinerary
Arrival in Irkutsk. Meeting with guide, transfer to a downtown guesthouse. Accommodation in TWIN and DBL rooms. Lunch followed by a city tour. Early check-in is not included. (L)
Transfer on a van (about 90 km) to a train station called «Tyemnaya Pad'». An easy 4 km hike down a small river valley to Lake Baikal. The final destination is a tiny village located on the Circum Baikal railroad. The van will deliver our luggage to the camp. Lunch in camp. Accommodation in a log house in one big room. Plank beds, 1 toilet and 1 shower for all. Sauna 2 hours. Breakfast lunch and dinner included. (BLD)
Hike across Baikal on foot (12 km) to Sludyanka town (the luggage will be carried by a van or snowmobile sled right to Sludyanka). Lunch to be served in lunch boxes on the ice. From Sludyanka town a van will drive us along the highway to the Warm Lakes (total drive about 100 km and 6 km away from Lake Baikal).  A beautiful place with tons of snow. Accommodation in a small hotel in TWIN and DBL rooms. Dinner.  Breakfast lunch and dinner included. (BLD)
In the first half of the day snowshoeing in the beautiful vicinity of the Warm lakes. After lunch you will try your luck in ice fishing.  Breakfast lunch and dinner included. (BLD)
Morning group transfer across the ice of Baikal to Listvianka in a hovercraft or 4×4 (depending on the group size and ice conditions). Accommodation in a guesthouse. Guided tour to Baikal museum, walk around the village. Breakfast lunch and dinner included. (BLD)
After breakfast we will start our 3 day ice hike. The tourists will be provided with pulka sleds to carry their personal luggage and part of the food stock. The luggage that the tourists will not need during the trip will be transferred to Irkutsk. Hike on the ice of Baikal to Bolshie Koty village. Overnight in a log cabin (2 bed cabins, all amenities outdoors). Total distance 20 km. Breakfast lunch and dinner included. Lunch in lunch boxes.  (BLD)
Hike to Kadilniy cape. Overnight at the National Park rangers' headquarters in a log cabin. One big room heated by a fire stove. 13 km. Breakfast lunch and dinner included. (BLD)
Hike to Bolshoye Goloustnoye village 16 km. Lunch on the ice or in a cafe in the village. Drive to Irkutsk (2 hours on a van). Overnight in the same guesthouse you stayed before. Breakfast lunch and dinner included. (BLD)
Transfer to the airport.
The tour is available from February 1 till April 1.
Minimum group size – 4 pax.
It's required that customers are physically fit and have basic winter camping experience.
Outfit and gear: snowshoes, pulks sleds and ice fishing utensils
It's required that customers have their own  warm clothes, winter hiking boots, crampons for walking on ice as well as sun cream and sun glasses. Ask your manager for a detailed list of personal equipment.
| | | | |
| --- | --- | --- | --- |
| Number of pax | 4-6 | 7-9 | |
| Cost per pax | 71 900 | 57 200 | |
transfers;
TWIN/DBL accommodation in guesthouses and hotels;
meals as noted in the itinerary (B – breakfast, L – lunch, D – dinner);
rent of equipment as noted above;
English speaking guide;
excursion as mentioned in itinerary.