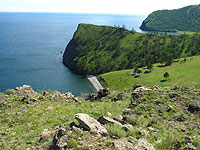 The following itinerary is a good choice for tourists interested both in backpacking and ethnography. The route runs through a number of sacral sites that are located on Lake Baikal shoreline. The backpackers will have a good chance to explore a number of shamanists' spots of the Tazheran steppe and Olkhon Island. And not only that: every day of your adventure you will enjoy picturesque bays, gorgeous rocks, sand beaches and the boundless blue waters of the Great Lake.
Itinerary
The tour starts with meeting the group in Irkutsk airport/railway station and a brief city tour. After that we'll travel 230 km by minivan to Buguldeika village that is located a couple of kilometers away from the shoreline of lake Baikal. Lunch en route at a road café. We'll walk a short distance (about 5 km) put up our tents on Lake Baikal shore and cook dinner on camp fire. (D)
After early breakfast we'll walk to lake Baikal shoreline and from there on top of a vast plateau covered with pine tree forest. At several places we'll walk down from the plateau back to the water and hike along the shoreline of Baikal. Our hiking this day will finish in a scenic fold on the shore of Baikal, which will generously share with you its mighty energy. Overnight in tents. Daily trip about 20 km (BLD)
From the start we'll climb up a gorgeous cliff from top of which one can appreciate a wonderful panoramic view of Lake Baikal. After a short stop for taking pictures we'll follow the shoreline bypassing a number of other cliffs. Lunch en-route. To avoid climbing over every other cliff be prepared to wade a short section (about 10 meters). At one point you will come across a beach with a narrow stripe of unusual black color sand and right after it a picturesque bay were we'll stop for overnight. Daily trip 22 km (BLD)
The backpacking will continue after breakfast along a forest road towards the famous Sagan-Zaba Cliff *. This white-marble rock is well seen against the gray background of the coast. Upon your wish you can spend some time looking for ancient inscriptions on the rocks. Dinner. Overnight in tents. Daily trip 19 km (BLD)
* The cliff is famous for its rock-drawings depicting scenes from life of ancient shamanism worshippers among which one can see dancing shamans crowned with antlers, running deer and swans – these rock drawings are world-renowned for their unique features, generally regarded as "gems" of ancient culture.
One day just to relax and explore the area of Sagan-Zaba. Easy hikes with daypacks. Overnight at the same camp site. (BLD)
Our next destination is Birhit bay – one of the numerous spots along the coast line where local Buryat people make their living by catching Baikal fish. We'll stop for lunch next to a beautiful creak and after that continue our trip to the valley of Anga River from were we'll ascend Murtyl Hada Mountain that once used to serve as a signal light spot and today is a perfect natural observation point. Atop this mountain one can clearly realize how people managed to spread the news and deliver messages in the ancient times. 20 km (BLD)
It is a short way left to Ust-Anga village from were we'll continue our trip on a van or truck to Sahyurta village that is located right opposite the Olkhon island. Accommodation to be provided in wooden houses. At the end of the day enjoy Siberian banya (sauna) to be followed by dinner and overnight. Daily hike 8 km (BLD)
After breakfast we'll walk a short way to the ferry station to board a ferry to cross the Olkhon Gait strait. As we reach the island a van will drive us 40 km up north to Khuzhir village * were the group will be hosted at a tourist camp in log cabins. After lunch we'll take a short walk to the Shaman Cliff *** worshipped by Shamanists and Buddhists alike. Try to discover on your own an image of a shaman's mask, inscription in Sanskrit, and a cave of ancient shamans. Overnight in log cabins (BLD)
* The only big village on the island. (1,200 people). A small but biggest in local terms fish processing plant is located here.
** Shaman Cliff is one of the 9 "holy-of-hollies" of Asia once called a Temple of Rock. The name of the Cliff was changed when Buddhism started spreading among Buryats.
On this day we'll enjoy a mountain bike trip to one of the most scenic places on Olkhon island – the Shara Nur lake and Tashkiney valley – one of the few safe outlets on the rocky western coast of Olkhon. After lunch at the lake side we'll head back to the camp. Overnight as the day before. Total ride 36 km (BLD)
A full day 4WD automobile safari to Hoboi Cape * – the northernmost extremity of the island. On the way to Hoboi we'll bypass Peschanoye Tract, famous for picturesque sand dunes created by wind gales blowing from the sea and moving sand from the shore **. Picnic to be served at the Cape. Dinner and overnight back in camp. (BLD)
* The Cape is located close to the widest place of Lake Baikal. It is right near a stone platform where Olkhon shamans used to carry on so-called Tailgans meetings. From here one can often see Baikal fresh-water seals – the world's only seals and the lake's only aquatic mammals.
** In early 50-s a fishermen's' village of 20 wooden houses was built here. By 1970 the area was totally buried with sand, so its inhabitants had to leave their houses.
After breakfast we'll catch a regular bus back to Irkutsk city (300 km away from the camp, 6-7 hour drive) with stop for lunch at a road cafe. Upon arrival in Irkutsk accommodation in a 3-star hotel. Afternoon at leisure and dinner on your own. Overnight in hotel (B).
Breakfast. Transfer to the airport. (B)
Please, note that the check in is at 12-00. In case of early arrival you might have to wait at the reception for the check-in hours.
You may adjust the program and add a few days as an optional tour which is not included in the main tour cost.
Total distance of the above tour itinerary is over 800 km of which your hiking portion is about 80 km.
No special training is required, but participant should be well fit, used to long hikes with heavy backpacks (20 + kg)
Tourists should have proper backpacks, sleeping bags, footwear and other backpacking items suitable for long distance trips.
Most meals throughout the itinerary will be prepared over the campfire.
Outfit and gear: tents, sleeping mats.
Climate conditions: Occasional rains and low temperatures at night are possible. Due to the changeable weather the tour itinerary may be altered.
| | | | | |
| --- | --- | --- | --- | --- |
| Number of PAX in a group | 2 | 3 | 4 | 5-6 |
| Cost p/p in Rubles | 93 600 | 73 400 | 64 900 | 59 100 |
Single supplement 8 600 Rub
Ground and water transportation as described in the itinerary;
Accommodations in log cabins as described in the itinerary;
All meals described (B – breakfast, L – lunch, D – dinner);
Mountain bike rent;
All excursions, entrance fees, and visits as described in the itinerary;
Guide.