Snowshoe ice fishing and ice trek on Lake Baikal
Duration: 9 days, 8 nights
Availability: February 1 to April 1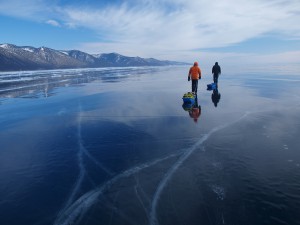 This trip offers a well-balanced combination of 3 winter activities affordable by most of our customers and does not require any special outdoor skills. You will start with an easy hike through Siberian forest, cross the ice shell of Baikal in its narrowest part, spend a full day snowshoeing and ice fishing in a wonderful winter fairy tale location and finish with a 3 day ice trek on the ice of the lake. You will see Baikal in all its diversity: old tunnels and bridges of the Old Trans-Siberian railroad, walk both on black ice and 3m deep snow, experience subzero temperatures and lots of sun.