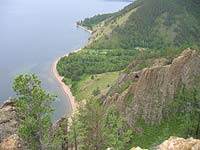 Backpacking along the Western coast of Lake BaikalDuration: 5 days, 4 nights
Departure dates: on request.
Despite a great variety of outdoor activities hiking yet remains the cheapest and thus the most popular way of exploring the wilderness. All you need is a reliable tent and a sleeping bag, comfortable footwear and a backpack, minimum of personal belongings and good spirit. Our hiking adventure starts from Listvyanka village – once a small fishermen community on the Western side of Lake Baikal that now has grown into a popular tourist center. The trail runs 60 km up north along the shoreline in a beautiful terrain. Easy access to the starting point is the main attraction of this route. And hikers explored this part of the shoreline long before the tourist boom on lake Baikal started in the late 90-s. Nowadays the trail from Listvyanka village to Bolshoye Goloustnoye village is the most advanced part of the Great Baikal Trail.